Why Is My Car Leaking Water?
It's not usually a serious problem if you see a car leaking water, as air conditioning systems in most vehicles drip condensation whenever they're running. Seeing little puddles near the back of the engine compartment shouldn't be alarming. Neither should water near the tailpipe – your exhaust creates condensation too! But if your muffler's warmed up, and the small puddle has become a big one, or it's changing color, "water leaking from under car" might actually mean "car leaking vital fluid." That's when you should check out this handy guide exploring the reasons for a car leaking water from Allen Samuels Dodge Chrysler Jeep Ram FIAT near Gatesville, and stop by for a quick inspection at our service department.
Identifying the Cause of Leaking Water
Follow these steps to learn where your leaking water is coming from:
Place a sheet of paper under the leak. If the fluid is blue, green, or yellow, it's probably coolant.
If you find a large pool of water from your exhaust, a blown gasket could be to blame. When that happens, coolant is burned along with fuel, resulting in white smoke coming from the exhaust.
Check your coolant level to make sure you aren't burning it. If it's low, take your vehicle to our service department post-haste.
If you think you might have a cracked windshield wiper fluid reservoir, think about if you've poured water instead of windshield wiper fluid. Freezing water in that reservoir can cause the plastic container to split, resulting in light blue or light green fluid collecting by your front tires.
Regardless, visit us near Woodway if you're finding anything besides water pooling around your car.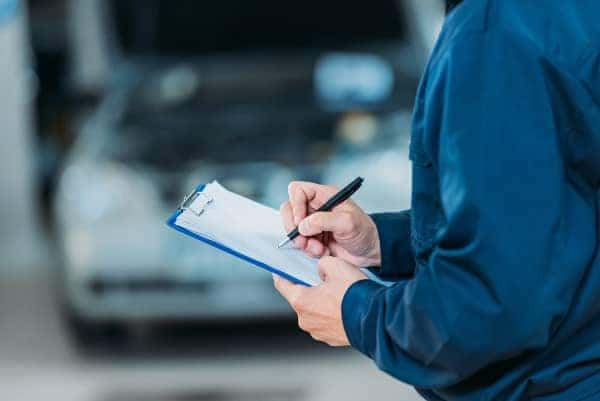 What Fluid Is Leaking From My Car?
Follow this list to discover what kind of fluid is under your car:
Red – Transmission Fluid or Power Steering Fluid
Orange – Transmission Fluid or Radiator Coolant
Yellow – Radiator Coolant
Green – Antifreeze from Water Pump, Hoses, or Radiator
Blue – Windshield Wiper Fluid
Dark Brown – Brake Fluid or Old Engine Oil
Light Brown – New Engine Oil or Gear Lubricant
Pink – Power Steering Fluid or Transmission Fluid
Visit Allen Samuels Dodge Chrysler Jeep Ram FIAT in Waco for Expert Auto Service
Here at our Temple area service department, we've happily helped dozens of customers identify the source of their leaking fluids. We can also help you properly check other fluids like oil, and we can also help you reset your tire pressure light. Contact us when you have more questions like, "What is causing my tires to wear unevenly," or "How do I get smoke smell out of my car?" and be sure to check out our service specials and coupons!
Learn More at Allen Samuels Dodge Chrysler Jeep Ram FIAT
Before you know how the RAM 1500 can fit into your lifestyle around Woodway, you may be wondering, "how much does the RAM 1500 weigh?" The 2022 RAM 1500 curb weight ranges from 4,778 pounds to 6,396 pounds, while its Gross Vehicle Weight Rating (GVWR) is 6,010 pounds and 7,800 pounds. When you're in the…

RAM products have a long history of quality, durability, and longevity. Now RAM has ranked number one in a J.D. Power 2021 initial quality study, ahead of all other brands on the market. This achievement is due to the continuing dedication of those at RAM to improve an already solid set of vehicles. For most…

There are a wide variety of Jeep Grand Cherokee L configurations and trim levels available, each with more features and amenities to add on top of an already well-equipped entry-level model. Looking for the right configuration to match your Gatesville needs? That's why all of us at Allen Samuels Dodge Chrysler Jeep Ram FIAT have put together a biopic of the…