What Causes Tires to Wear Unevenly?


While many Woodway drivers may know to rotate their tires when they schedule regular maintenance according to their drivetrain, few may know the underlying reason as to what causes tires to wear unevenly. Of course, a number of factors affect tire tread wear, including your driving style and the terrain or climate around your Temple adventures and commutes. Read on with the Allen Samuels Dodge Chrysler Jeep Ram FIAT service center experts to find out what you can do to reduce uneven tire wear.
Tire Tread Wear: Why and How it Matters
Because your tire treads are a necessary part of safety on Gatesville streets, keeping their variance in check is a crucial step of car maintenance. Tire treads make sure that your wheels can grip the road properly even on unstable or slippery road surfaces, from dirt back roads to a slick patch on your highway commute.
When tire treads become shallow or uneven, their ability to keep contact with the road weakens, which can result in worse performance imminently. Less-than-ideal conditions reveal their faults quickly, so it's a good idea to keep an eye on your treads.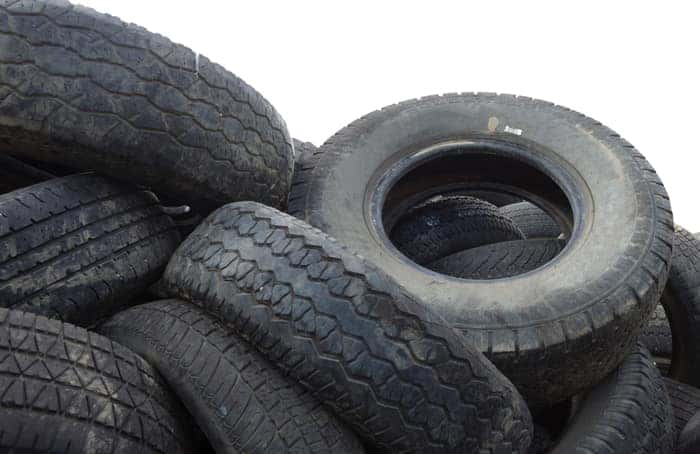 The Specifics of Uneven Tire Tread Wear
Ultimately, what causes tires to wear unevenly boils down to two usual categories: misalignment and improper tire inflation.
Misalignment: Tire alignment is a crucial routine service that can make a difference in a number of your vehicle's systems. Although misalignment is relatively common, due to potholes or accidentally hitting a curb, its effects can be disastrous over time. Fortunately, misalignment is easily fixed with the help of a specialist. You can discover the difference between wheel balancing vs. wheel alignment to maintain optimal tire health with our team.
Improper Inflation Pressure: When your tires have the correct pressure, it creates optimal weight distribution. This not only saves your tire treads, but it aids in both braking and turning. The pressure being too high or low means your tires will work extra hard to function, and the rest of your systems will take the extra stress as well. Checking your tire pressure on a regular basis is a must, especially if you feel your ride is a little unsteady. Consult your owner's manual and get in touch with your local service experts to make sure you're up to code.
Quality Tire Car at Allen Samuels Dodge Chrysler Jeep Ram FIAT
The Waco specialists are here to keep you and your vehicle on the road as long as possible. Check out more of our parts tips and tricks to make sure you make the most of all your systems, and explore our service videos for any particular issue you're curious about. Contact us today to schedule an appointment or simply learn more with the experts at Allen Samuels Dodge Chrysler Jeep Ram FIAT!
More from Allen Samuels Dodge Chrysler Jeep Ram FIAT
The Jeep Grand Cherokee L is still a recent member of the Jeep family, which has many Woodway drivers curious as to what's inside this SUV. Take a look at the Jeep Grand Cherokee L third-row seating and other interior features to see how you can take your next road trip the max with Allen Samuels Dodge Chrysler Jeep Ram FIAT….

Gatesville, did you know that the Jeep Grand Cherokee is one of the most awarded SUVs on the market? If you're looking to elevate your Jeep experience, the Jeep Grand Cherokee L will pique your interest. You can expect top-of-the-line features, advanced technology, extended legroom, and more. Allen Samuels Dodge Chrysler Jeep Ram FIAT in Waco is here to match you…

The Jeep Grand Wagoneer has been turning heads, and it's no wonder why. This luxury SUV would make a beautiful addition to any Woodway driveway. But just wait until you see the beautiful 2022 Jeep Grand Wagoneer interior. Not only does this car look great on the inside, but there's plenty of room, and you…