How to Get Smoke Smell Out of a Car


It's easy to find a reliable used car that suits your budget. However, in some cases, used cars come with minor issues, thanks to their previous owners. Fortunately, many of these minor issues are easily fixable. One of the most common problems with used vehicles is a lingering smoke smell. If you're wondering how to get smoke smell out of a car, check out our guide below for tips!
Remove Smoke Smell from Car Upholstery & Carpeting
If your car has fabric upholstery and carpeting, you'll follow a different set of steps than you would for leather upholstery. You'll need baking soda and a vacuum, for starters. Then, follow these steps to get the smoke smell out of your car:
First, thoroughly vacuum the carpet and upholstery to remove any ashes that may be lying around. Get into the nooks and crannies and under the seats as well.
Next, sprinkle some baking soda over the carpeting and upholstery. Let it sit. Baking soda will help neutralize the smoke smell.
Lastly, after the baking soda has had time to sit, vacuum the interior once again. If the smell is still lingering, you can sprinkle a bit more baking soda and repeat the process. You can also leave an open box of baking soda in your car to help neutralize the smell even further.
How to Get Rid of Smoke Smell in a Car with Leather Seating
Smoke can soak into leather seating as well. You'll need a special leather cleaner that won't dry out the material but will also sanitize it and leave it smelling fresh. Follow these steps to remove it safely and effectively:
First, use a soft, clean microfiber cloth to wipe down the seats. If you have perforated leather, avoid applying the cleaning solution directly to the seats. Use the solution on the leather trim as well, such as on the dashboard.
Next, clean the surfaces again if necessary. Smoke can be stubborn when it comes to leather because it's a natural material. Multiple cleanings will help remove the residue as much as possible.
Lastly, leave an opened box of baking soda in your car for additional help with neutralizing the smoke smell.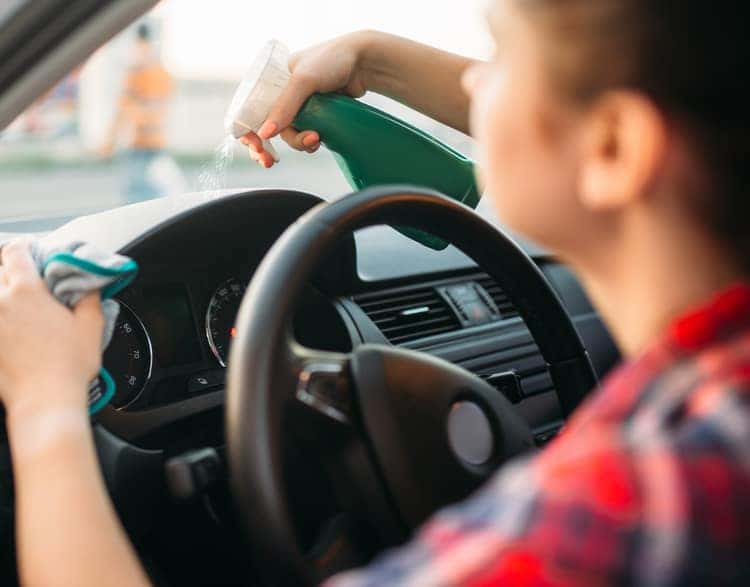 Removing Smoke Smell from Other Areas of Your Car
After you've cleaned the upholstery, trim, and carpet, you'll need to focus your attention on other aspects of the interior. In addition, you'll want to:
Wipe the windows
Wipe the front and back windshields
Replace the air filter
This will help remove as much of the smoke residue as possible, leaving you with a fresher smelling car.
Get More Car Care Tips from Allen Samuels Dodge Chrysler Jeep Ram FIAT
Whether you're shopping for a quality pre-owned car, or you're looking for service tips on how to make your current car last, Allen Samuels Dodge Chrysler Jeep Ram FIAT can help. We can show you how to change your oil, reset your tire pressure light, or help you with anything you need. If you have any more questions related to how to get cigarette smell out of a car, don't hesitate to contact us online or give us a call at %%phone_serivce%%. Ask about our expert car washing and detailing services, and how our team can get your used car looking — and smelling — great again!
More from Allen Samuels Dodge Chrysler Jeep Ram FIAT
The Jeep Grand Cherokee L is still a recent member of the Jeep family, which has many Woodway drivers curious as to what's inside this SUV. Take a look at the Jeep Grand Cherokee L third-row seating and other interior features to see how you can take your next road trip the max with Allen Samuels Dodge Chrysler Jeep Ram FIAT….

Gatesville, did you know that the Jeep Grand Cherokee is one of the most awarded SUVs on the market? If you're looking to elevate your Jeep experience, the Jeep Grand Cherokee L will pique your interest. You can expect top-of-the-line features, advanced technology, extended legroom, and more. Allen Samuels Dodge Chrysler Jeep Ram FIAT in Waco is here to match you…

The Jeep Grand Wagoneer has been turning heads, and it's no wonder why. This luxury SUV would make a beautiful addition to any Woodway driveway. But just wait until you see the beautiful 2022 Jeep Grand Wagoneer interior. Not only does this car look great on the inside, but there's plenty of room, and you…